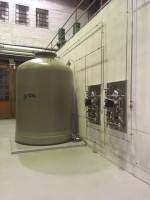 SNCR 4 + 5 MW
During 2019, BioEld has supplied 2 SNCR facilities for urea toThermokraft AS in Notodden Norway. They are installed in 2 boilers fired with recycled demolition wood (4 MW and 5 MW).

SNCR 5MW
During 2019, BioEld also has delivered an SNCR system for Urea to Jernforsen. The system will be installed 5 MW boiler in Norwegian Tromsö
(Kvitebjørn Varme AS) modified for firing recycled demolition wood . Commissioning takes place during the autumn.

Uppdatering pannor
BioEld is engaged by Akershus Energi to update their two wood chips fired boilers (Hollensen) in Akershus EnergiPark, Lilleström Norway. The work includes a new system solution and control philosophy for combustion air and flue gas return, as well as commissioning.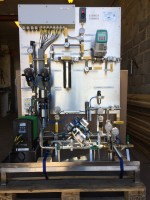 SNCR 4 MW
In 2017, BioEld delivered an SNCR system for Urea toJernforsen. The installation took place in a new 4 MW steam boiler fired with wood pellet containing residues from the production of bio-oil. Property owners are Argent Energy.

SNCR 4 MW
Another plant for Urea was commissioned during 2017 in Arendal (Agder Energi) for 4MW boiler with cyclone burner for wood powder firing. The fuel is MDF briquettes.

SNCR 10 MW RT-flis
In 2016, a SNCR plant (NH3) was delivered to a Jernforsen 10 MW hot water boiler fired with recycled demolition wood , which was commissioned in Elverum. Property owners are Eidsiva Bioenergi AS.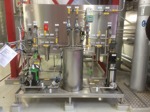 SNCR 25 MW forest residues
BioEld has in 2014 delivered an SNCR system to Tranås Energi. The installation took place in the new 25 MW power plant boiler fired by wood chips (forest residues).
In 2015, emissions of NOx averaged about 40 mgNO2 / MJ at the same time as low emissions of CO and NH3 slip (15 and 3.5 mg/MJ respectively) was achieved.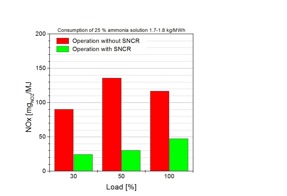 SNCR 25MW Demolition Wood
In cooperation with the boiler supplier KMW Energi, a SNCR systems were installed in the newly constructed 25 MW power turbines boiler fired by demolition wood and delivered to Vetlanda Energi och Teknik . In addition to the machine delivery, BioEld contributed to the design of the furnace which is optimized for NOx reduction. The system was commisioned 2013.

At completed performance tests have very low emissions of NOx was shown. NOx emissions were between 25 and 47 mg / MJ at conditions of NH3 slip <10 ppmvg before the flue gas (approximately 3 mg / MJ) and 1.7-1.8 kg / MWh consumption of 25% ammonia solution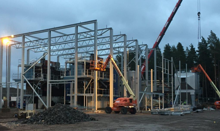 Project managment 2 x 8 MW grate firing with wood chips
BioEld was engaged by
Jernforsen
for project management in the construction of 2 separate boiler lines with flue gas condensation which became in operation in autumn 2016. The end customer is
Täby Fjärrvärme, jointly own by Eon.
Project managment 15 MW grate firing with wood pellet
BioEld was engaged by Hotab for project management in the construction of a new 15 MW pelleteldad hot water boiler which became operational in autumn 2014. The end customer is Borås Energi och Miljö